What is a Trailing Stop Loss and how does it work?
Sun Sep 17 2023
Trailing Stop Loss is a powerful and robust tool that can help traders optimize bot manual and automated trading strategies alike. Here is why you should use in your next cryptocurrency trading bot.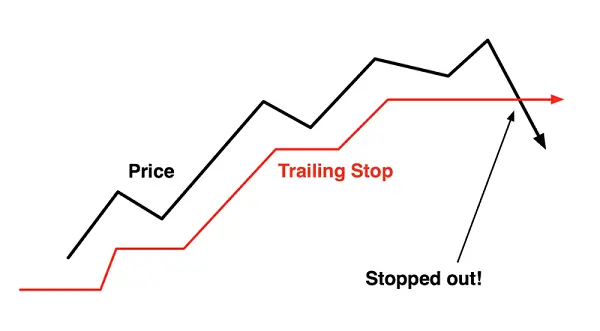 A robust exit strategy is a prerequisite for a successful trading strategy whether you are trading manually or with the help of a crypto trading bot or an algorithmic cryptocurrency trading platform such as Aesir. In this article we'll be exploring the Trailing Stop exist strategy - a more robust and customizable version of the Take Profit / Stop Loss combo.
What is a Trailing Stop Loss?
At its core, a trailing stop loss is both a measure of risk limitation as well as maximizing potential gains. While it shares similarities with the standard stop loss order, its adaptability sets it apart. Because it "trails" or follows the current price of the asset, a Trailing Stop Loss can have a significant impact over the profitability of your crypto trading bots, and trading in general.


In a traditional stop loss, the order remains static. The trailing stop loss, in contrast, adjusts in accordance with market fluctuations. For instance, let's say you acquire a cryptocurrency at $100 and set a standard stop loss at $90. Regardless of how high the asset's value may soar, a drop to $90 triggers a sale. Yet, what happens if the asset's value reaches $150? A static stop loss doesn't factor in this new peak. You may opt for a Take profit, but how do you ensure that you close your position around the top and not sooner?


This is where your strategy would benefit from a Trailing Stop Loss. By setting a $10 trailing stop loss, as the asset's value rises to $150, the stop adjusts to $140. If a decline to $140 occurs, the stop activates, preserving a $40 profit per unit.
How does a Trailing Stop Loss work?
Understanding the trailing stop loss involves a procedural breakdown:

Trail Amount Determination: This is the set distance from the highest price point of the asset, which can be expressed as a fixed sum or percentage.
Price Rise: With a surge in the asset's value, the trailing stop ascends, maintaining the designated trail amount. For instance, if you've set your Trailing Stop Loss at 5% and the asset has since gained 25% in value, you have effectively locked in 20% or profit.
Price Drop: A decline in the asset's price by the trail amount from its peak prompts the activation of the stop loss.
Order Activation: Upon activation, the trailing stop loss converts to a market order, resulting in the sale of the asset at the most favorable rate available.
Trailing Stop Loss Advantages
Adaptable Framework: Trailing stops offer the advantage of automatic adaptation, saving traders from incessant manual re-calibrations.
Profit Safeguarding: This tool not only locks in profits but also allows a trade the breathing room to expand.
Emotion Regulation: By setting a predetermined selling threshold, traders can bypass the emotional turbulence often associated with manual trade decisions.
Tailored Risk Management: The trail amount's flexibility allows traders to calibrate it according to their risk appetite and the market's volatility.
Trailing Stop Loss Limitations
The main thing to be aware of is the speed of execution for your trailing stop loss. How quickly is it being updated? If you're working with a particularly volatile strategy, the speed at which the trailing stop loss updates could have an impact over your trades performance.
Trailing Stop Loss in Algorithmic Cryptocurrency Trading
Naturally, due to its adaptability under quick market conditions and tendency to maximize profits, it's a perfect fit for algorithmic cryptocurrency trading. Most crypto trading bots use some form of risk management so it makes perfect sense to optimize your exit strategy by moving away from arbitrarily chosen Stop Loss and Take Profit values, and instead allow your crypto trading bot to continue to keep an order open for as long as the trend in the right direction increases.


Remember, the best way to learn is by doing. Sign up to Æsir to get started and Join Our Discord (it's good stuff).